Yogurt smoothie recipes are easy to make and are packed with nutrition and health benefits and are probably the quickest, easiest, as well as healthy way to get more fruit and calcium into kids and adults. There are many smoothie recipes with yogurt which just shows how popular adding yogurt to smoothies is. I think that it is the fact that yogurt added to both the taste and texture of a smoothie + the fact that there are so many different flavours of yogurt that the possible combinations are endless.
Smoothie recipes often contain fruits such as strawberries, bananas or avocados plus super foods and protein powders to balance the carbs but if there is no yogurt in your favourite smoothie recipe you can add a small amount and you have now turned your favourite smoothie into a yogurt smoothie recipe.
There are many well documented health benefits of yogurt and you should be able find a good recipe for yogurt smoothies but if not just add what ever is your favourite yogurt to your favourite smoothie and you have got the best of both worlds a healthy smoothie made with lots of fruit as well as the added benefits of yogurt. If you want to go that little bit further then low fat or no fat yogurt can be used in your yogurt smoothie
Some suggestions for Yogurt smoothie recipes are:
Mixed Fruit Yogurt Smoothie Recipe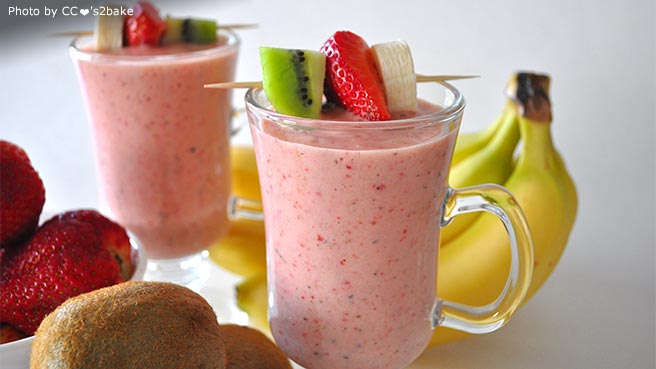 Ingredients: 1 cup yogurt (any flavour, but vanilla is a good base)
1 cup apple juice
1/2 cup blueberries
1/2 cup strawberries
1 small banana
2 cups of ice
Banana Yogurt Smoothie Recipe
Ingredients: 2 cups eggnog
1 Peeled banana
1 cup non fat vanilla yogurt
1/3 cup of 2% milk
2 cups of ice
Pinch of nutmeg and Pinch of cinnamon
Blueberry Yogurt Smoothie Recipe
Ingredients: 1 cup blueberries (fresh or frozen)
7 oz vanilla yogurt
1 tablespoon lemon juice
2 tablespoons orange juice
1/2 teaspoon vanilla extract and 1/2 cup ice
All the recipes above can be made easily at home. You might also need a small size blender along with fresh ingredients!
A glass full of great yogurt smoothie is the perfect way to cool down and relax on a hot especially if you are making your yogurt smoothie recipe with healthy ingredients such as luscious strawberries or bananas and yogurt.
You can combine the health benefits of fruit and yogurt into one drink with a yogurt smoothie recipe that almost anyone will enjoy. If you don't like one type of fruit in a yogurt smoothie recipe then swap it for something that you do like.
We are constantly told that we need to eat healthier and with any of these yogurt smoothie recipes you really have no reason for not increasing your intake of fruit.